Batsy Mittens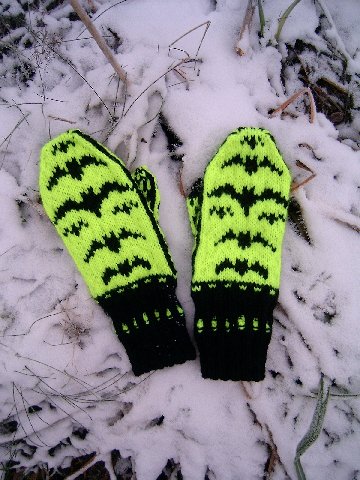 Yarn: ca. 60 g black sportweight yarn and ca. 30 g neon/contrasting yarn
Needles: ~ 3 mm dpns
Size: small womans size, adjust size with bigger or smaller needles.
Gauge: 24 sts and 28 rows / 10 cm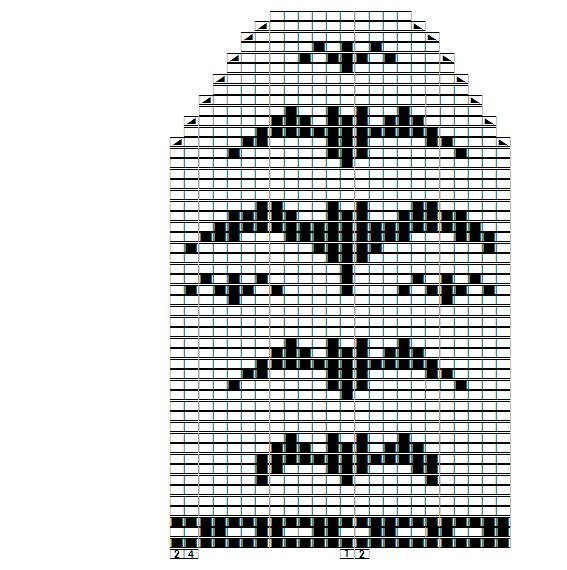 Begin by casting 48 sts , 12 sts per needle. Start with knit 2 purl 2 ribbing, continue ribbing ca. 9 cm.
Start the mitten as it shows in pattern, the thumb is made afterwards and it´s place is on the 16th row. Make the place for thumbs as follows: knit three, take 15 cm of waste yarn and knit the next 8-9 sts with the waste yarn. Put the sts back to right needle and continue pattern as before. After your mitten is finished, pick up ca. 18 sts from the thumb opening and knit the thumb using the same stripe pattern as in the palmside of mitten.
If you find the pattern too short for your hand, make the first bat again between the last two bats.
Use three needle cast off with the last 10 + 10 sts. Bind off all the yarns, steam lightly if needed.
 =knit two together
 =sl 1, knit 1, psso