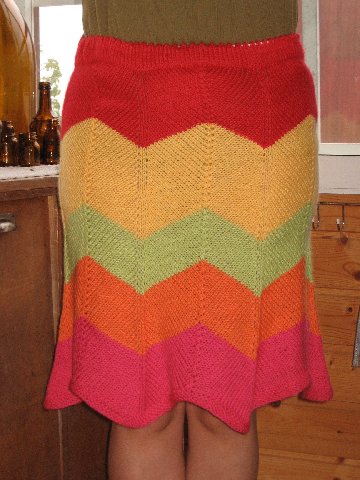 CandyStripes-skirt, pattern for aran weight yarn, knitted from top to knee or lower.
Ideal project for stash busters.

Gauge 18 s /10 cm / 4mm needles

Waist / sts

68 cm 112 sts
78 cm 140 sts
88 cm 168 sts
98 cm 196 sts etc...

Pattern is 28 sts wide.

Increases: pick up the yarn between sts and knit it.

Materials: 4mm, 5mm, 6mm circular needles, darning needle, elastic band.
Ca 300 g of yarn for knee-high skirt.



Waist:
Cast on 4mm circulars needed amount of sts, begin by knitting stockinette st for 4 cm (or the width of you elastic band + 1 cm). Purl for one row, continue St st until the elastic band fits into casing. In that point you can knit the casing almost closed, leave a small hole where you can insert the elastic band.
Continue with stockinette for at least 10 cm to avoid bubbles on the hips, then begin with the zigzag-pattern:
1st row:*add 1 sts for the first st, knit 12 sts, sl 1 st, knit 2 tog, psso, knit 11 sts, add 1 st, knit 1 st* repeat ´til the end of row.
2nd row: knit all sts
Repeat these two rows.

You can make the hem wider by increasing stitches and/or using bigger circulars when knitting towards the hem.

Increases:
1st row: knitted as the usual 1st row
2nd row: add 1 st for the first sts, knit until there´s 1 st of zigzag pattern left, add 1, knit the last pattern sts.
Do the increase rows evenly, if you change colours you can hide increases on colourchange rows.
Hem:
Knit until the skirt is long enough, purl for three rows and bind off loosely enough. Measure elastic band little shorter than the measurement of your waist, thread it on the casing, sew bands ends together and sew casing closed. Darn yarn ends, steam lightly from inside.

Happy stashbusting!
Questions? Ziina77 at hotmail dot com answers.